Our clubs are located in the Rochester area, as well as parts of the Buffalo and Finger Lakes regions. Click
HERE
to learn more about square dancing in our area. This website is also the home to our online news publication, the Promenader. Please bookmark this page in your browser, and explore the site by clicking on the quick links below. We hope you will return often to keep up to date on dance schedules and RAF announcements.
Welcome to the New RAF/Promenader Web Site
We hope you will be pleased with the new web site, which combines the old RAF web site with Promenader news and information.
This first ePromenader issue is dedicated to Betty and Andy Ludwick. During their 16 years as editors, they turned the Promenader into a work of art.
Betty has tirelessly and meticulously shepherded the transition from the printed version to this electronic version. Her attention to detail is amazing. All of the good looks and organization of this new web site can be traced back to the Ludwicks. (Any ugliness or other issues you find are solely due to the implementers' inability to follow her design.)
Most of the material that was in the printed Promenader is now available on the web site. So look around and see what you can find.
And when you see Betty or Andy, congratulate them on all of the good features you find on the new web site.
Thank you, Betty and Andy, from the entire square dance community.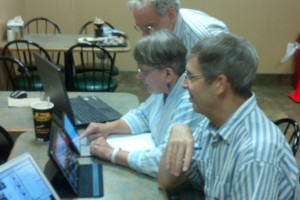 Betty and Andy working on the ePromenader