Dance with THE VILLAGE SQUARES !
Wednesday evenings at 123 South Main St, Pittsford, NY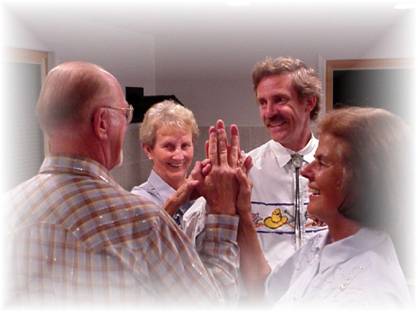 Bob & Kathy Atkins and Peter & Sally Emmel doing a "right hand star"
The VILLAGE SQUARES dance from 7:30-10:00pm (*see note) on WEDNESDAYS (Sept-May) for dancing, fun and friendship with JERRY CARMEN calling and cueing.  We dance at The United Church of Pittsford, 123 South Main Street, in Pittsford, NY.  We are a 'mainly-couples' club, with annual dues at $25/couple and a members' donation of $8 /cpl for regular dances.  Visitors' donation is $10/cpl.  We dance at the "PLUS" level, and we provide a "PLUS" teach/review/practice program starting at 7pm on most Wednesdays.  Look for class & dance announcements in the online Promenader magazine, at squaredancingrochester.org, or contact Peter & Sally Emmel (585-381-5049).  (*Note: On class nights our doors open at 7:00pm for an hour of instruction & practice followed by dancing to the class level at 8pm.)
We encourage ALL SQUARE & ROUND DANCERS to visit us for special THEME DANCES, scheduled roughly every month throughout the season.  Details are published regularly in the Promenader – Club News and Flyers.  Typical and recurring themes include:  HALLOWEEN DANCE with costumes ... BARN DANCE with Jerry Carmen's interesting mix of country tunes! ... CHRISTMAS-HOLIDAY DINNER dance ... NEW YEARS EVE dance ringing in the new year with the HIP BOOT BOYZ in an elegant and intimate setting at St. Thomas Episcopal Church in Brighton ... PATRIOTIC dance (related to Presidents week and/or Veterans Day) ... MARDI GRAS dance ... SADIE HAWKINS dance (with Marryin' Sam, and auction proceeds to the Promenader) ...TRI-CLUB DANCE (with Cloverleafs and Copy Cats in April)  ... and an occasional AMATEUR CALLER NIGHT where aspiring new callers and brave "civilians" vie for the PRIZE FROG.
CLASSES: If you would like to LEARN or REVIEW PLUS-LEVEL SQUARE DANCING, we offer a weekly Plus-Level TEACH-REVIEW-PRACTICE program beginning at 7pm on Wednesdays from mid-September thru mid-December, and resuming January thru April if there is enough interest.  The level of this class is based on the needs of the folks who participate, so let us know where you're coming from and how far you want to go.  Contact Peter & Sally Emmel (585-381-5049) for details or to sign up.
• Friend us on Facebook              • Follow our traveling pandas, Acey and Deucey