Every "A" dancer within a hundred miles of Rochester N.Y. knows that Mike Callahan's Shamrock Squares dance year-round, every Tuesday night at the Pieters Family Life Center near the intersection of 15A and Jefferson Road. Yes, there are regular members that drive that far, summer and winter, just to be counted among the smiling faces you are about to see in the pictures I am including here. And just to make a point, although no longer, "regular dancers" here, Ron and Judy Giuliana, of Pittsburg, P.A., never miss a Tuesday if they can possibly make it, and being longtime friends with Charley and Dale Nientimp, that seems to happen pretty often. It was my good fortune to have Judy as my corner, twice! … making it a very special evening for me, and that is in addition to this being Mike and Wanda's "Ice-Cream-Social" night, where this wonderful couple that give so much of themselves to us, also supply the ice cream and all the makings for "roll-your-own" sundaes, hmmnn! Or is that sundies??? OK, no matter how you spell it, they were great, with fresh strawberries, nuts and various syrups, Awesome!. Thank you Mike and Wanda.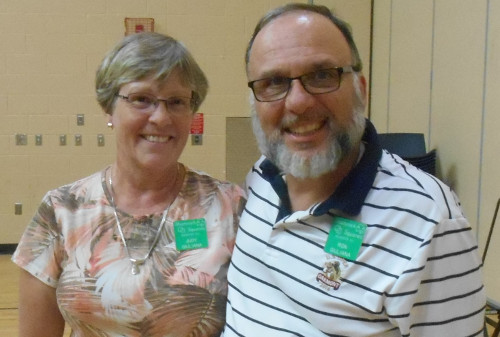 Ron and Judy Giuliana, Good Friends from Pittsburg P.A.
Of course with Irma sidelined with her yet to be solved "structurally defective" knee, I had many opportunities to take pictures, but I did get to dance twice with Ruth Phillips when "Hubby Ted" graciously decided to talk to Irma, while I got to see if I remembered all of the intricate calls that keep our minds and bodies healthy and active, even as some of us approach what our "senior children" would call "old age"! That point was brought home to me when our 63-year-old son asked me: "When were you born?" Of course he knew the answer to be 1929, and said: "If you were born before 1930, you are old!"

That may be technically true, but I purposely took a picture that included at least two people that enjoy birthdays before 21 July, 1929, my birthday! … and I know for a fact that neither Shirley Dickerson, nor Shirley Atwell are any more ashamed to admit it than I am; rather we are in fact proud that we can still dance at this high level, with no limiting mental or physical encumbrances … and with all of us pointing to square dancing as the enabling common denominator.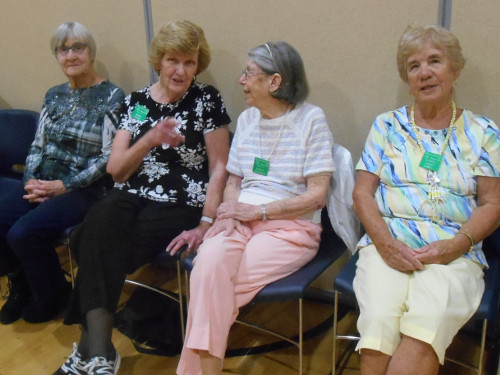 Pat, Marge and the Two Shirley's
Irma and I met the Dickersons and the Atwells in the early 1990s when we joined the Southern Tier Wheelers, our square dance camping club that still dances in the Southern Tier of our beautiful New York State. Of course then both of these ladies still enjoyed having their partners (Dick Dickerson and Bob Atwell) to enjoy this wonderful activity with. Sadly, square dancing has not proven a conqueror of the "Big C," and some other lethal aging agents; however, because we all love each other, the format of dancing accommodates "Singles," or as many chose to be called, "Solos."

Most dancing at the "A" (Advanced), level is, "by the numbers": When you sign in at the Shamrock Squares, and pay your either $12 as a couple, or $6 as a single, you are given a number, typically the line number that you signed in on, and although the first and last "tips" (squares), are in an open format where you all square-up as you wish, all the other squares are assigned. Say if you signed in on line 16, that would be your number, and Wanda, by sliding her big cursor progressively along on her square assignment board; a quick glance reveals to everyone their square assignment. Typically the club has three to six squares, all with assigned positions on the floor. Singles or "Solos" are paired as squares so that everyone gets to dance; perhaps not every tip, but there are no "wall flowers" never dancing.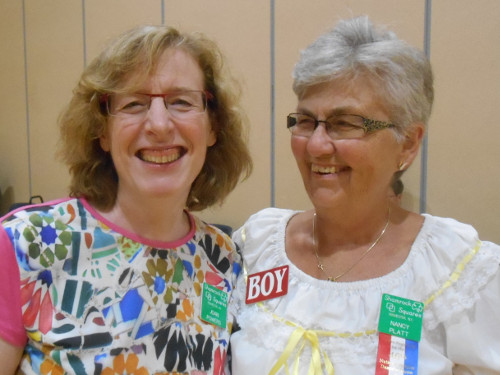 Part of the beauty of "A" dancing is that everyone knows all the moves from every position: meaning "Guy" or "Gal," or more technically correct at "A": "Belles or Beaus." Notice in the picture of Nancy Platt and Joan Powers, that Nancy is wearing a BOY sign; (yea, like who is going to believe that!); however, this helps solve the partner problem if there do not happen to be a balancing number of male singles … and the BOY sign also helps prevent confusion in active squares, and especially those with less experienced dancers. Thanks to excellent dancers like Nancy, there are rarely wanting solo sideliners. If you follow the adventures of Tom and Joan Powers on Facebook, with Tom's recent retirement, this beautiful couple can be found anywhere in the world where there are biking or hiking trails, or high adventure of any ilk!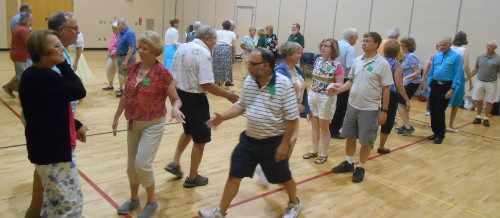 Tom and Joan Caught Static
There are times when a couple "Stands Static," while others are moving, which surprisingly enough, is one of the harder things for new dancers to do. That is, don't move until the callers wants you to! Ron is obviously stepping right out to catch up with his momentary new partner, Dale Nientimp's expectant hand. In square dancing, your "partner" is always the person next to you, and that can change quickly! As an example, consider doing the center part of Load the Boat. In a tight square, your "partner" can change three times in three steps!

I hope I have not created the impression that "A" Dancing is a form of "geriatric dancing"; that is definitely not the case. The music and the beat that it is danced to is exactly the same as for Basic, Mainstream and Plus; however, having said that, there is much less swinging and twirling," and especially when contrasted with high energy "singing calls" danced at the entry, intermediate and Plus levels. At Mike's, our format usually includes only one "singing call," paired with one of the later calls in our evening of dancing. Here everyone is sensitive to the fact that for more mature dancers, moves requiring raising the arms high above the head can be painful, difficult, or impossible for some. Even at Mainstream and Plus I seem to see more "Don't Twirl" signs. For me, if it is offered, I take it; if it is not, I don't … and it is easy to tell. The same with swinging; I love it, but it is not for everyone.

Most Basic, Mainstream and Plus Dance formats routinely are in a 2 X 2 format. That means each tip would include a hash tip and a singing call, followed by two Rounds: a lower level Round such as a Phase II or III, and then a somewhat higher level, perhaps a III, IV or V, depending upon the club, as would be the predominant clubs in the square dancing Meccas of the world, such as The Valley in Texas, Mesa, A.Z., or many clubs in Florida, such as the Strawberry Squares.

Here at Mike's, we are all happy to just take a five-minute break between tips and amuse ourselves by simple things, like all crossing our legs in unison, and on cue, reversing the cross. Notice in the following series of pictures how much fun Dale has in doing just this.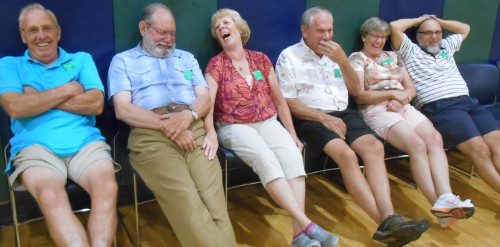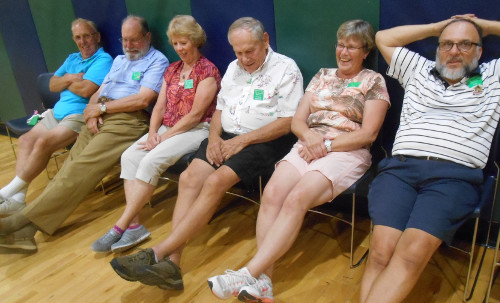 It Doesn't Take Much To Amuse Square Dancers
But, mostly we just come to dance, and we enjoy the camaraderie of being with people we have come to love, and getting enough healthy exercise, both mental and physical, to make of us a happy people.

Enjoy the remaining pictures.

Then imagine (picture), yourself being with us! … and then take the steps necessary to do it. Love you all.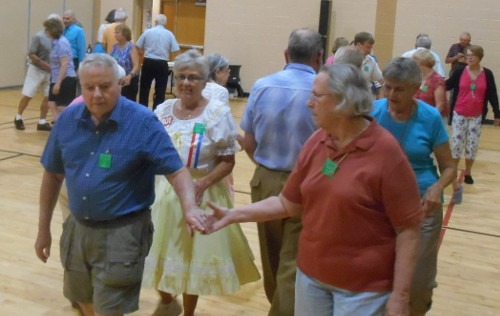 Bob Bonnet with Ginger Smith Nancy Platt etc.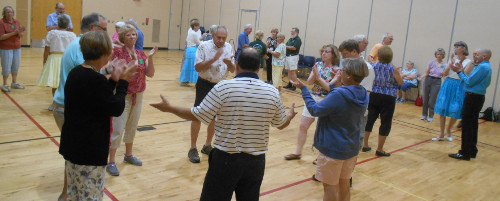 Four Squares Concluding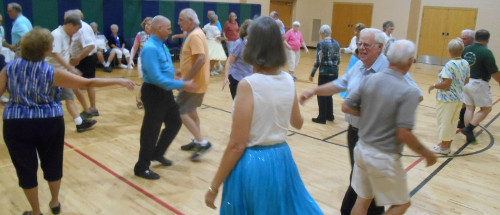 Lots of Action Here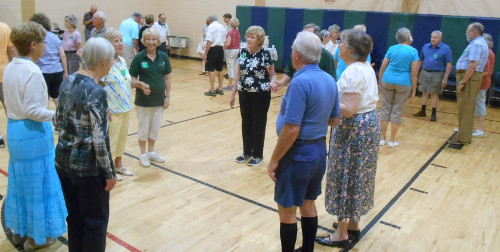 Ready to Begin, Note Wanda Callahan Squared up with Pat Danaher, Foreground Left